Gluten Free Entertaining
- It Can Be Done!
I was diagnosed with Celiac Disease back in 1987 - and soon discovered that nothing to do with food would ever be the same again.

This cookbook is a direct result of re-learning how to cook and bake without wheat, rye, and barley, or any product that contained any type of derivative of those grains, over the past 22 years

You can't get around it, when people are getting together for any reason, there's usually food.
This Cookbook is a Delight!

I've read and used many, many Gluten Free cookbooks and recipes over the years, but I must say that this is one of the best that I've seen! Mary Blackburn has chosen some great recipes for gluten-free holiday cooking and baking--but they are so delicious that they can be used year-round!

There is a great variety in this book also. Everything from soups and breads to main courses and desserts. Just reading through the book and looking at the pictures made me hungry! The addition of photos to each recipe, is very helpful in deciding which recipes to choose for your meal plan.

Thank you, Mary, for an excellent resource for the gluten-free community! I will highly recommend this book to everyone who may benefit from it!
- Kim Smith
If you have gluten intolerance, the food aspect has just been removed from your party plans. When you think about it, 99% of the food that most people eat is wheat-based or has some form of wheat, rye or barley in it.
Well This Cookbook Changes Everything!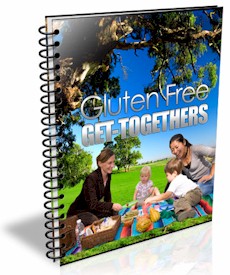 The food in this cookbook was food that I enjoyed before I was diagnosed with celiac disease. I decided that I wanted to eat as normal as possible. So I set about to make my favorite recipes not only gluten free, but so tasty that my friends and family would never guess that they were eating gluten free!
You'll find a variety of recipes, from appetizers to take-a-long casseroles to breads and desserts plus my personal tips and tricks that will put you at ease.
Hi Mary,
I am impressed with your book. I particularly like your attitude, which gives anyone reading it hope that they can easily enjoy eating with friends and family again, and that eating gluten-free is not so difficult.

Your guidance is so valuable, since you are a pioneer with the gluten-free
lifestyle. You started 22 years ago, long before most of us had any idea
about gluten intolerance, making you a real expert in the field. I appreciate your helpful tips on How to Attend a Party Without Fear of
Cross Contamination. Also, the details that you provide on healthy
alternatives like Teff Flour, Millet Flour and Whole Flax Seed, are terrific.

Since I am always looking for healthy alternatives, I appreciate your research and experimentation leading to successful recipes, so I don't have to figure it all out myself! Your recipes look so appetizing and I love that you include photos. Recipes I want to try, include - Broccoli Cheese Party Quiches, Creamy Asparagus Soup and Pumpkin Muffins. Yum!

It is really obvious that you have put a lot of time, effort, and love into
your "A Gluten Free Holiday Cookbook" and I look forward to recommending it to others.
- Diana Walker
Soon your kitchen will be producing...
Stuffing!
Bread!
Biscuits!
Pumpkin Muffins!
Banana Bread!
All Gluten Free :)
My great recipes and years of gluten free cooking know how will take all of the stress out of your gluten free party planning.
For just $10.00, you could have the confidence to host or attend your next get-together. Get your copy now before the price goes up.
Your e-book will be delivered right away by PDF file. (Even if it is 2:00 in the morning).
Iím so sure that you are going to find this cookbook so helpful, that Iíve included a 60 day money back guarantee, no questions asked.
I'm so happy to know that all of my trial and error over the years is going to help YOU enjoy party and holiday foods and entertaining again!
Enjoy!
Mary Blackburn
Feel free to email me at maryblackburn@gmail.com
I thought the book was great! I loved the pictures and it was easy to use and very helpful, especially for someone who just found out they were celiac.
- Rosey Goodman